Miscellaneous
This page contains some stuff not available elsewhere. It will usually be quite outdated and not be very interesting, otherwise I would have placed it elsewhere.
Script to create a local apt config useable as user
createlocalapt.sh is a little script to create all the directories and config files needed to run apt as user. (This can help to run apt on one computer with network access to bring the downloaded files to a computer without network or very slow network, or to just test how apt deals with some repository without having to login as root somewhere).
Last updated: 2007-09-7
LaTeX font with some more mathematical symbols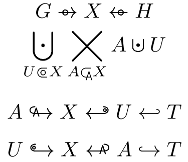 symbrl.tar.gz enthält einen kleinen aus anderen Quellen (siehe Urheberrechtsangaben in den einzelnen Dateien) zusammengeschusterten LaTeX Schriftsatz mit ein paar in der algebraischen Topologie recht nützlichen Symbolen, wie Vereingungszeichen mit Punkt, offenen und abgeschlossenen Teilmengen und Inklusionen, große kartesische Produkte und so Zeug.

Zuletzt aktualisiert: 2005-05-03

main page.